Is discipline breaking down within Labour?
Is discipline breaking down within Labour?
UPDATED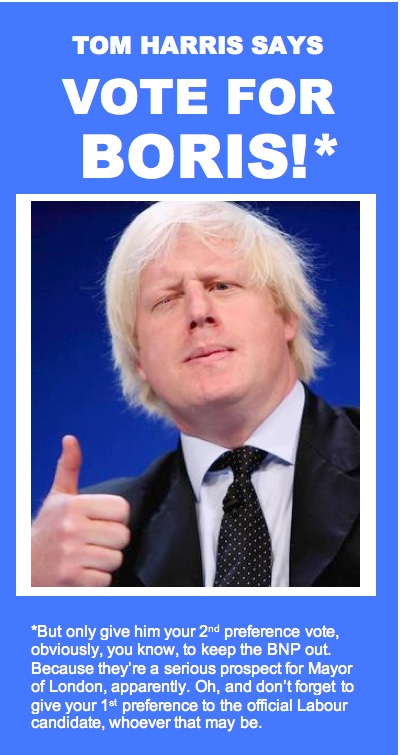 Could Labour MP,Tom Harris, himself be in trouble?
The above spoof ad has been published by Labour blogger Tom Harris MP under the heading "I do hope the NEC will approve…" to illustrate what the party's London mayoral candidate, Ken Livingstone, did during the recent campaign for the mayoralty of Tower Hamlets.
It will be recalled that the party replaced the controversial Muslim leader, Lutfur Rahman, as the official Labour candidate two months before polling but this did not stop him from running as an independent and Ken from appearing on a platform with him in the final stage of the campaign.
One of the basic rules of all political parties is that you only campaign for official candidates. Ken's defence, so bitingly represented in the Harris ad, is that he was campaigning for voters to give Rahman their second preferences.
As it turned out Rahman won convincingly getting more than 50 percent of the first preferences but Labour's NEC decided to take no action against Ken.
What Tom Harris's satire is doing is upping the ante and keeping the issue in play. Its publication makes the NEC's inaction look feeble and weak.
Whatever I think that the row will continue right up to the election in May 2012 and the only gainer will be Boris.
Mike Smithson