LAB lead moves to 7 points with IpsosMORI
LAB lead moves to 7 points with IpsosMORI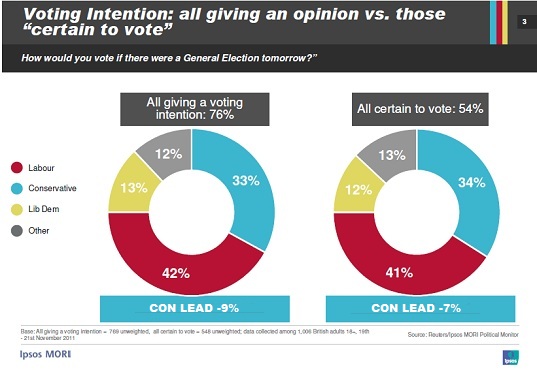 Is the surge to "others" on the wane?
Just published is the Ipsos-MORI Reuters political monitor for November and the VI figures are above. As can be seen the split is with changes on last month  CON 34 (nc): LAB 41 (+3): LD 12 (nc).   So the very high others figure of October is on the decline.
The firm always produces two sets of VI numbers – one of all those who expressed a preference and the other of those certain to vote – the latter is the one that gets headlined.
This is the second telephone poll this week which is showing a sharp reduction in the total for "others". Populus had an even big move on Monday night in its Times poll.
Amongst other findings:-
The poll  shows that just 15% believe the economy will improve in the next 12 months while 58% expect it to get worse (a net Economic Optimism Index of -43). This is the highest "get worse" rating Ipsos MORI has recorded since February 2009.
One in four people (27%) think the British economy will be better off than most other European economies in a year's time while 16% think it will be worse off.  Half (54%), though, think it will be about the same.  Linked to this, 80% say that the state of the European economy has at least a fair amount of influence on the British economy, even more than the 71% who think that British government decisions do.
Half (52%) of the public think David Cameron and George Osborne have responded at least fairly well to the current economic crisis in Europe. This is higher than the 44% who think leading European politicians such as Sarkozy and Merkel have handled it well.
Just over half of the public (55%) believe Britain should not loan money to another country, even if that country is on the verge of bankruptcy, because Britain should concentrate on sorting out its own problems. Four in ten (40%) say it is in Britain's best interests to loan money to a country that needs it, given the reliance of Britain's economy on others. This represents a small shift in opinion towards Britain not lending since December 2010.
This poll also has the latest leader ratings which I'll post about later in the day.