Will the Bain attacks hurt Mitt?
Will the Bain attacks hurt Mitt?
Can Newt get his revenge?
The video, a trailer to a 30 minute film, has been funded and made by an organisation that is supporting Newt Gingrich. Although he has not expressed it in these words the ex-house speaker seems intent on doing whatever he can to stop Romney.
This is the first time that the front-runner's time as CEO of Bain has come under serious fire and this is likely to continue right through until November, assuming he gets the nomination.
This is hard rough stuff and has been sparked off by the fierce anti-Gingrich ads deployed by an organisation supporting Mitt in the battle in Iowa.
The problem about going negative, as Mitt is finding out, is that your opponents can do the same.
I'm blogging the US election for the Daily Telegraph – You can read my posts here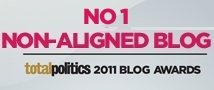 Recent Threads