Can Guido secure 73,717 signatures by Saturday?
Can Guido secure 73,717 signatures by Saturday?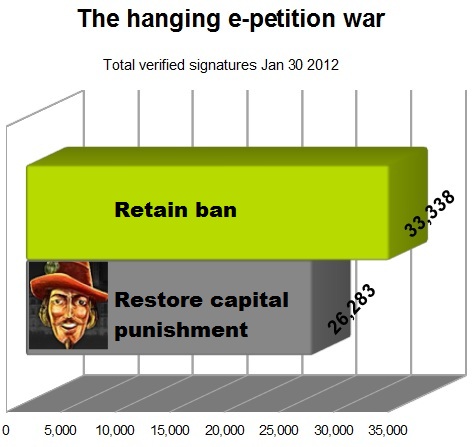 Is he in danger of losing losing the E-petition war?
Back in the summer Guido launched a campaign to get capital punishment restored for certain cases of serious murder and he set up a petition on the Number 10 e-petitions site.
The aim was to reach the threshold of 100,000 within six months so it would become eligible to be debated in the commons.
His move received a fair bit of attention in the media and also prompted a rival petition from those wanting the current ban on capital punishment to be retained.
Alas time is running out. The total has to reach 100,000 by the weekend for then it becomes time expired and there's still some way to go.
As can seen from the chart the total of 26,283 is somewhat under the required number. Guido has made up some ground on the "retain the ban" initiative but the big number looks set to defeat both.
The lesson from this is that it's mighty difficult using the e-petition scheme to get on the parliamentary agenda. If an issue such as capital punishment promoted by a popular blog and parts of the national media cannot do it then very little can.